Packing Tips
Whether you have lived in your home for a few months or many years, packing can be overwhelming. It's all about how to get organized and where to begin. Packing your belongings into boxes is both an emotionally taxing and physically challenging work. At Home Moving Solutions®, we're committed to making your moving experience as stress and drama -free as possible—and our commitment begins before you even place your first item in your first box.
Check out our packing tips, than get your boxes packed
Get organized and start packing early
The best way to minimize the amount of boxes and wardrobes that are packed is to purge. Moving is a perfect excuse to touch every item and make a decision whether you want or need that item. This is time consuming and must be started extremely early in the moving process. You can start room by room or by items, like clothing, shoes, toys, storage, kitchen items. Once you identified what you are moving you can start the process.
If you are packing yourself, make sure you purchase corrugated moving boxes and moving tape. Reusing boxes that you have lying around or found may be cost effective, but if not of moving type or quality that can break during the move damaging your goods.
As you are walking through your home the best way to make sure you have gotten everything is to open up all of the doors and open all of the drawers. Once you have packed up all the items in that area, close it and place a piece of blue painting tape (the kind that doesn't leave a residue and comes off easy) on it as a signal that it has been completely packed.
 Try to keep all room contents in the same box. Mark that box as to what room and if fragile.
Use wardrobe boxes to make closets easier to pack (you can leave your clothes on their hangers). Clothes in drawers can be placed in suitcases, duffle bags or plastic bins.
You can never have enough packing paper and bubble wrap to ensure items are protected.
Always stack dishes upwards when packing, and avoid breakage by using china boxes. It's also a good idea to avoid wrapping china in newspaper; the ink can stain your china.
Save time for the kitchen. It takes the longest to pack up because you have to make sure everything is individually wrapped.
Prep your belongings for a smooth move-in
Try to pack all electronic equipment, like TVs and stereos, in their original boxes. Otherwise use bubble wrap to protect these items.
Place any items you wish to take with you off to the side and inform all crew members to not pack them. These items could include things such as cable boxes, medication, cash, jewelry or any other personal items you may want to be readily accessible once you are in your new home.
Pack important documents separately to be easily accessible—financial records, health records, passports, family records, insurance information, and photo albums.
Make sure you label your boxes for where you want them to go and not where they came from.
Don't pack with used boxes or boxes from the supermarket. You never know what little critter is hiding or if the box will be strong enough to support your possessions.
Most animal kennels break down. They're much easier to transport if they've been taken apart.
Always pack and unpack breakables over a padded surface.
Never tip stand mixers on their side when packing into boxes. The lubricating oil inside the mixer will pour out of it.
Use only small book boxes for books and publications. They get very heavy with few items.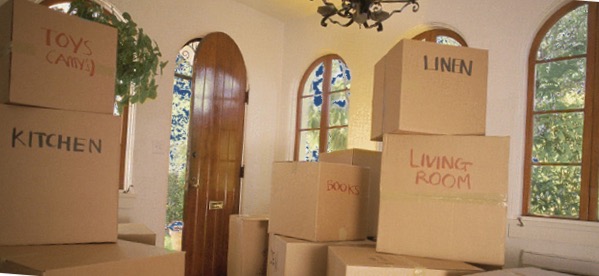 Last minute packing
Ask your movers to load anything you might need right away in your new home toward the end of the truck, so that it is the first thing unloaded.
Place items that you are taking with (cable boxes, medication, or any other personal items) you off to the side, and inform all crew members not to pack them. You can ask your movers to place them in your vehicle.
 As you take apart furniture and other items, make sure to tape all parts to the main base or place in a zip lock bag and label what piece they came from.
Have a wardrobe box available the morning of the move. The last things you'll pack will be the bed linens, comforters, and pillows you sleep with. Put these items in the wardrobe box, so they'll be easy to find when you're ready to collapse after a day of moving
Alcohol, flammable and combustible items
Most moving companies will not place alcoholic beverages or flammable or combustible items in their moving trucks. For any of these items, pack securely in a separate box, label and your moving crew will place in your personal vehicle.
HAVE A MOVE COMING UP? LET HMS HELP!
CONTACT US TODAY FOR A NO OBLIGATION ESTIMATE!